Who is Freddy Hall?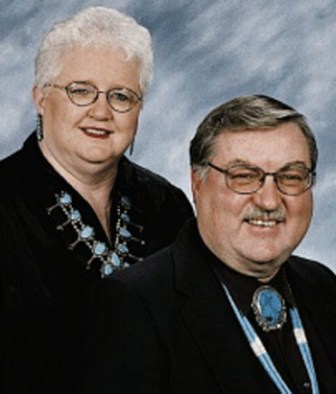 Missionary-pastor Freddy Hall, B.A., is the founder of Freddy Hall Navajo Outreach (FHNO), a Christian mission to Navajo Indians and to all Native Americans. The core ministry of FHNO is Dineh Christian Center inShiprock, New Mexico, where he is senior pastor.
Freddy Hall has unique qualifications for ministry to the Navajo people because of his family history and ministry experience. His missionary-pastor parents were active participants in a great Pentecostal revival that swept the Navajo Reservation in the 1950s and 1960s. His full testimony is available on a free cassette tape. He was called to the ministry as a teenager in the summer of 1965 in a small youth camp in the Colorado mountains. He immediately enrolled in Midwest Bible Institute, Webb City, Missouri, where he earned his A.A. in Ministry. The ministers of the Full Gospel Evangelistic Association ordained him in 1967 at the Full Gospel Camp meeting at Wyandotte, Oklahoma. Freddy holds a baccalaureate degree in Christian ministry from South Texas Bible Institute, Houston, Texas.
Freddy's Parents' Ministry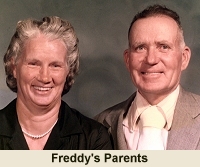 In 1958 Freddy's father, Albert L. Hall, was a farmer in San Juan County, Utah (in the Four Corners region) where his parents, the late Cecil and Grace Hall were pioneer homestead settlers. By 1959 Albert had moved his family of ten thirty miles from the farm in Utah to Dove Creek, Colorado where he started the Full Gospel Revival Center in a storefront on Main Street. He was a lay independent Pentecostal pastor while supporting his large family with the farm and other jobs.
At that time the United States was still in the post World War II boom and in the middle of the Cold War. The moon race and the nuclear race both were at full tilt. The uranium that fueled the latter was largely mined in the Four Corners Colorado Plateau area. Dove Creek, historically a small, quiet farming community, had become a bustling uranium mining boomtown. Scores of uranium mines were hiring hundreds of Navajo Indians from the nearby reservation to work underground in the mines. Consequently, many Navajo people lived in crude mining camps near Dove Creek.
The elder Hall's Full Gospel Revival Center was born out of the "Healing Revival" era of Pentecostal history. That was the time when the gigantic healing tent revivalists like Oral Roberts, Jack Coe, A.A. Allen, and William Branham emerged onto the public American scene. The revival fervor was so intense in Dove Creek that the Halls' congregation met for Sunday School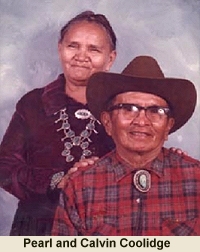 and three church services every Sunday as well as on Tuesday and Friday nights. On Sunday the church also served two meals to the entire congregation. There was a noon meal and an evening meal. Those meals were the Halls' key opening contact with the Navajo people. One lady, Pearl Coolidge, and her children were invited in to eat. They stayed for the followingservice, got born again, and in turn invited her Navajo friends. That was the beginning of a flood of Navajos who converged on the Full Gospel Revival Center to be born again, healed, set free from alcoholism, and filled with the Holy Spirit. In subsequent years many of those Navajo believers moved back to the Navajo Reservation in Arizona, southern Utah, and western New Mexico to start churches of their own. Albert Hall soon found himself an effective missionary to small churches all over the vast Navajo Reservation.The full story of the beginnings of Pentecost among the Navajo is available on a free cassette tape or a videotape which may be purchased from this ministry.
Freddy Hall's Ministry
As a typically rebellious teenager, Freddy left the Four Corners and the Navajo Reservation when he graduated from High School in Dove Creek in May 1965. His rebellious phase only lasted a few weeks, however, until he rededicated his life to God at a small youth camp on the Grand Mesa mountain near Delta, Colorado. After getting right with God at youth camp, he moved to Webb City, Missouri, to attend Midwest Bible Institute. After graduation, as a single young preacher, he became a frequent speaker at youth revivals, youth camps, and youth rallies for Full Gospel churches in the Full Gospel Evangelistic Association -- all the while pastoring small churches in Sarcoxie and Granby, Missouri. During this time, he also furthered his education with classes at Missouri Southern State College, Joplin, Missouri.
While speaking at a youth camp convened at Boiling Springs State Park, Woodward, Oklahoma, Freddy met a young singer, Nancy Doiel, from Perryton, Texas. After a few months they were married and elected to the pastorship of Keelville Church, Baxter Springs, Kansas, where they served seven years before being called to pastor Decker Chapel, aka Living Stones Church, in the Houston, Texas area. The Halls served Decker Chapel for nine years, then planted Faith Restoration Church in Klein, Texas, where they served for another nine years. They have two sons who still reside in the Houston area.
While serving Faith Restoration Church, Freddy began ministering to the Navajo people, commuting from Houston, Texas to New Mexico.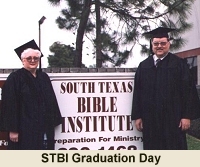 During this period, after 25 years of full-time ministry, both Freddy and Nancy completed studies and graduated from South Texas Bible Institute. After several years of part time missionary work, in 1996 Freddy and Nancy moved to Shiprock to devote full time to Navajo ministry. At that time Freddy took over the leadership of the Full Gospel Revival Center, a struggling congregation with 4-6 people in regular attendance. Now renamed Dineh Christian Center, the church has enjoyed continuous revival for four years and grown to 600.
Historical Note
Pastor Hall is honored to have served for seven years as the pastor of historic Keelville Church, Baxter Springs, Kansas. According to Dr. Pauline Parham, Keelville Church is the first structure in the world built specifically for Pentecostal meetings. Dr. Parham is the daughter-in-law of the late Rev. Charles Fox Parham, founder of the twentieth century Pentecostal/Charismatic movement of North America. Pastor Hall studied under Dr. Parham at Midwest Bible Institute. Dr. Parham simultaneously served as founding Superintendent of Midwest Bible Institute and pastor of Keelville Church. Charles Fox Parham was a frequent speaker at Keelville Church from its inception in 1906 until his death in 1929.
Copyright © 2004, Freddy Hall Navajo Outreach